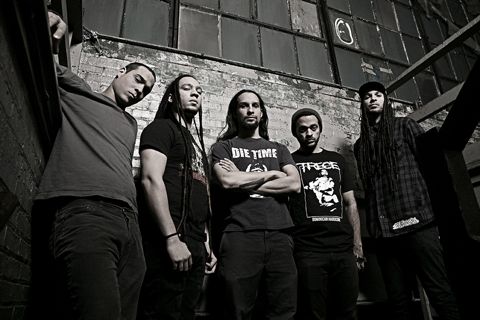 We are very pleased to announce that we will be releasing a brand new 12″ EP from LA ARMADA on May 13. The "Crisis EP" features six new originals and a medley of Bad Brains covers. Having known the guys in the band for around 11 years now, it is safe to say that this is the best material they have written to date. They continue to push themselves to the limit and have become one of the tightest live bands I've ever seen.
The EP was recorded by Andy Nelson of Weekend Nachos fame in the band's adopted hometown of Chicago. The band really wanted to capture their live sound as much as possible and Andy did a great job. Mastering was done by Alan Douches (Converge, Dillinger Escape Plan) at West West Side. Vinyl mastering was done by Dave Eck at Lucky Lacquers. Here is the track listing:
1. Chiraq
2. No Idea
3. Don't Need It / Attitude / Shitfit
4. Human Filth
5. V.L. (Vincho-Leonelista)
6. Obsolescencia
7. Outro
There are two songs from the EP currently available for streaming. You can stream "V.L. (Vincho-Leonelista)" over at Brooklyn Vegan and "Human Filth" from MetalSucks.net.
You can pre-order a copy of the record in our online store. The records were pressed on color vinyl and come with a screen printed poster/insert and digital download. The pre-ordered version will also come with a special hand stamped "unbaptismal certificate". Pre-orders will ship mid to late May.
LA ARMADA will be on tour in May supporting the release of the record. Tour dates and poster below:
MAY 09 – Ft Wayne, IN @ Brass Rail
MAY 10 – Detroit, MI @ Yonka
MAY 11 – Cleveland @ The Foundry
MAY 12 – Philadelphia, PA @ J.R.'s Bar
MAY 13 – Hartford, CT @ Whitney House
MAY 14 – New london, CT @ The Orphanage
MAY 15 – Providence,RI @ Machines w/ Magnets
MAY 16 – New York, NY @ The Acheron
MAY 17 – Baltimore, MA @ Side Bar
MAY 18 – Richmond, VA @ Cedar
MAY 19 – Huntington, WV @ Elimination Chamber
MAY 20 – Nashville, TN @ World Trade Center
MAY 21 – Louisville, KY @ Mag Bar
MAY 22 – Columbus @ House Show
MAY 24 – Indianapolis, IN @ The Melody In