What better way to kick off moving to a new city, than to have a FAT SANDWICH FEST? That's right, we're having a fest, sort of. What originally was just setting up a show for LA ARMADA in Birmingham has somehow turned into a two-day affair with a bunch of awesome bands.
FAT SANDWICH FEST will take place on Friday, April 12 and Saturday, April 13 at The Forge (5505 1st Ave North, Birmingham, AL). If you're into both days it's just $12 (online pre-sale ONLY). If you can only make it to one night it's $7 (at the door). Both nights are ALL AGES so feel free to bring your parents or your little brother.
Order your two-day pass at http://fatsandwich.storenvy.com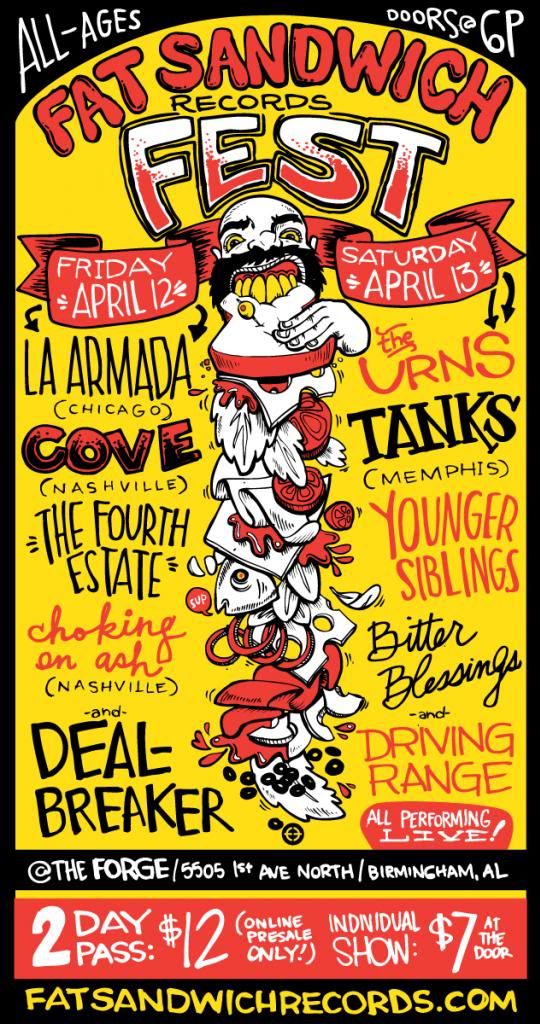 FRIDAY, APRIL 12 – Doors at 6PM
LA ARMADA – Latino hardcore punk from Chicago
COVE – Heavy metal from Nashville
THE FOURTH ESTATE – Melodic punk/hardcore from Birmingham
CHOKING ON ASH – Doom metal from Nashville
DEALBREAKER – Punk rock from Birmingham
SATURDAY, APRIL 13 – Doors at 6PM
THE URNS – 90s grunge revival from Birmingham
TANKS – Experimental rock n roll from Memphis
YOUNGER SIBLINGS – Indie pop from Birmingham
BITTER BLESSINGS – Shoegaze punk from Birmingham
DRIVING RANGE – 90s Punk emo from Birmingham
Special thanks to Garrett Smith for helping me set this up and to Lauren Holtermann/Enfectious Erf for putting together such an awesome poster!