The time has almost come for us to leave the wonderful city of Memphis. This Friday we will officially be relocating to Birmingham, AL. It's hard to leave so many great people, but we won't be too far away. Thank you to everyone in Memphis who has supported us or helped out in anyway. Memphis will always be home and we'll be back as often as possible. We can't wait to come back and check out the new Hi-Tone spot and see how far the Grizz can go in the playoffs.
With that being said, we will be closing our online store for a few days while we make the transition. The store will be closed from tomorrow night, Thursday, April 11, at midnight until next Monday, April 15 at midnight.
————————————————-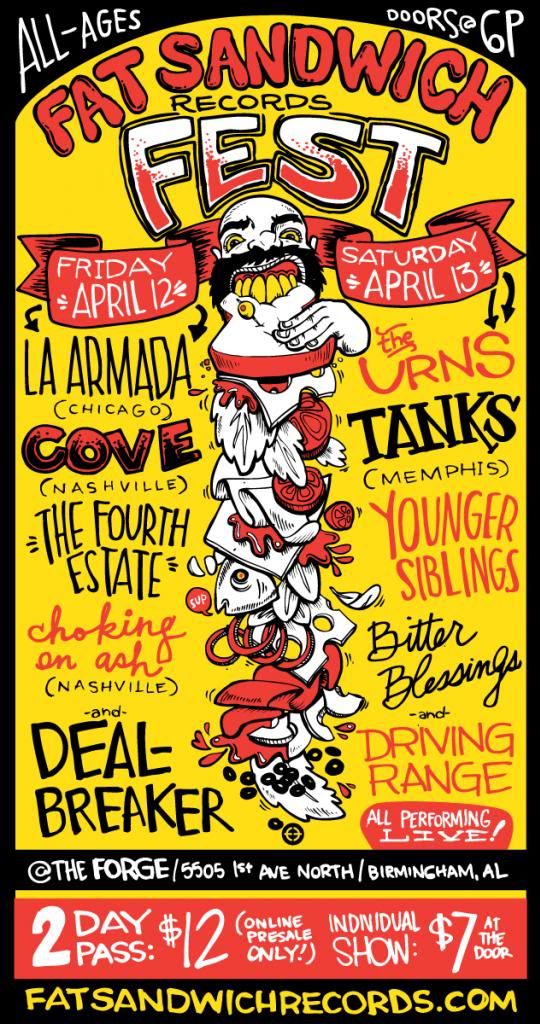 This Friday and Saturday we are hosting Fat Sandwich Fest! We hope you can make it out to see some great bands. We will have everything from our online store available at the show. That includes records, cds, cassettes, shirts, pug stuff, etc! We will also have brand new cassettes from THE URNS and CHOKING ON ASH. Here are the lineups for both nights:
FRIDAY, APRIL 12 – Doors at 6PM
9:30 – THE FOURTH ESTATE
9:00 – LA ARMADA
8:30 – COVE
8:00 – CHOKING ON ASH
7:30 – DEALBREAKER
SATURDAY, APRIL 13 – Doors at 6PM
9:00 – THE URNS
8:30 – YOUNGER SIBLINGS
8:00 – TANKS
7:30 – BITTER BLESSINGS
7:00 – DRIVING RANGE
2-DAY PASSES ARE STILL AVAILABLE UNTIL TOMORROW NIGHT (THURSDAY) AT MIDNIGHT! SEE YOU THERE!